Frequently Asked Questions
How much are classes and how do I pay?
---
30 min class - £28.00 | 45 min class - £31.00 | 1 hour class - £34.00 Sibling/parent discount - 10% Additional class discounts – 2nd class - £7.50, 3rd class -£10.50, 4th class -£13.50 There is a one-off Membership fee of £30, which covers insurance and includes a School T-shirt or bag (please specify which you would like) We operate a monthly fee system, whereas the year's fees will be averaged out per month. We ask that a card be lodged with our secure payment provider and the monthly amounts will be taken automatically. The fees will be charged one month in advance.
---
Can parents watch?
---
The younger children get distracted easily, especially when they want to show off new skills to their parents, so we allow parents to watch at the end of each half term. We find this gives them a few weeks to build up their skills and create something to show at 'watching week'. From Grade 1 upwards parents may watch classes and are welcome to take notes of any corrections given. We do ask that parents are respectful of the atmosphere of the class and do not talk or try to distract their child and that mobile phones are on silent.
---
How do I put hair in a bun?
---
This video should be of help.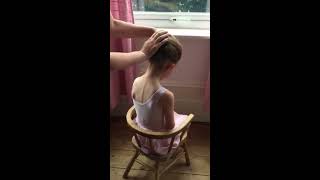 ---
How do I sew ribbons on my ballet shoes?
---
This video should be of help.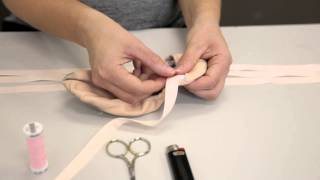 ---
Is it necessary to sew on the elastics that are provided with ballet shoes?
---
Yes, because without the elastic sewn on, children's feet will either slip out of the shoe as they jump or worse still the child will 'claw' their toes to help keep her foot in the shoe.
---
At what age do children start wearing pointe shoes?
---
Generally speaking from the age of 11 or 12 years or when their ankles are strong enough. Dedicated classes are created for children going onto 'pointe'.
---
---